H. Allen Rispin: Often More Myth than Real Life Legend
He Promoted Intrigue in Hopes of Selling Real Estate but His Private Story Has Seldom Been Told
Henry Allen Rispin
By Mary Bryant
"About five years ago I was run down in health, tired out, etc, so moved to California, purchased the town of Capitola, which is one of the most beautiful spots in California and without doubt the most delightful, where one can enjoy life outdoors twelve months out of the year. I built one of the most beautiful homes in California here. The result is that I feel twenty years younger than I did five years ago, and while Capitola is a good paying proposition, as we own not only the town, hotel, stores, amusements, etc, but also own the water works system for this entire district, the electric light, gas plants, etc, but I am nervous to get back into the oil business, it being the business that I know better than anything else. ? Hence I am looking for a producing oil property that has not been entirely drilled up so that I can get back into the harness again, and would consider trading Capitola with everything that goes with it, also my home, for a good oil property."
— H. Allen Rispin, 1923
Three days before
his 51st birthday.
(Letter courtesy Capitola Museum))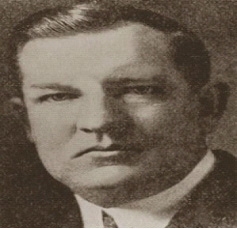 Most likely, H. Allen Rispin would have much approved of many of the stories that have swirled about his life in recent years.
As modern-day developers have tried to find support for building the Inn at Rispin on Wharf Road, there has been renewed interest in Rispin the man, and intrigue about his life and times.
Ghosts, Prohibition-era scandals and marvels of a large home in a gorgeous setting have done much to promote the idea that an upscale hotel would prosper, if for no other reason than the history of the place would draw droves of curious visitors.
The property is listed on the National Historic Register and Rispin is often referred to as an oil baron who developed the Capitola. Why wouldn't his home be a popular destination if restored into a hotel?
On behalf of the city, Capitola's council purchased the structure in 1986 for $1.3 million — along with more than six acres of property.
Initially, there was much support to save Capitola's iconic home, a link to the town's early days and one of the city's last remaining open spaces.
However, plans for a library, city hall and community center at the site failed in the early '90s. Eventually, the city ran out of ideas and asked for help.
A private/public partnership was formed in the late '90s to build a boutique hotel and conference center. That too has apparently also failed. Why?
Environmental laws now constrain creekside development and the neighborhood isn't suitable for anything but low-intensity use. Additionally, construction costs would be enormous.
If there was hope left — and another proposal appears in the works — a fire last May has made any future plans that much more difficult.
There wasn't much left of the original home before the fire — lots less after the four-alarm blaze brought down the main expanse of tile roof and the floors below it.
Would Rispin have been surprised by the trouble developers have had?
Rispin sunk a fortune — about $1 million at the time — into making Capitola into a resort for all-variety of tourists, only to lose his investment and retreat to other opportunities in 1927.
Who Was H. Allen Rispin?
Just like the home Rispin built and the resort he tried to develop, much of his life was filled with bad investments, bad luck and soured ventures.
His final days were spent in the indigent ward of a San Francisco hospital, and he's buried in a pauper's grave in Colma.
So how did the charismatic Rispin have the money to buy Capitola in 1919 as a private resort, build a grand mansion and develop a golf course in Soquel, only to lose control?
That story has never been compiled in one place, until now. And even today, there remain missing pieces.
Why did Rispin go broke? He wasn't taken down by the Great Depression as some have believed. It was much later in life. He left Capitola without a return on his investment, but he was one of several investors and Rispin went on to other adventures, mostly in the oil industry.
Was the mansion his home? No. Never. He and his wife (Annette or Nettie) lived in San Francisco, initially at the Fairmont Hotel, after moving from Denver, Colorado. He saw Capitola as a place to make money, not much more.
George McCrea, who designed and built the mansion in Capitola, had prior to that been commissioned by the Rispins to remodel a home in San Francisco. McCrea's specialty was Spanish Colonial Revival architecture, popular in the Bay Area after the 1906 earthquake.
Despite their San Francisco roots, the couple's only son graduated from Santa Cruz High School. He died in Watsonville as a relatively young man.
Was Rispin born wealthy? Absolutely not, but they were financially secure. His parents were from England and owned a ticket agency in Petrolia, Ontario.
By the time Rispin was born in 1872, they had a large family. It is said that Rispin was too young when his parents died to even remember them.
However, there was evidence the family had some status as his older brother was among the directors of a tennis club, which Rispin later joined.
Rispin didn't start his career in oil, nor does it appear he went to college. There's no indication that he even graduated from high school.
Trying a Bit of Everything
In fact, Rispin was a bit of a vagabond after being orphaned very young and raised by his older brother.
He said he left home at age 14. He once reported he was the youngest in the family.
That wasn't strictly true. A younger brother had drowned in a boating accident as a teen, but by the time Rispin told the story for a San Francisco "Who's Who" publication, he was the youngest of the far-flung siblings.
He worked a variety jobs, some in lumber and others in the rail industry in Canada before heading to New York.
Once there, he became a manager at the Savoy Theater, among other establishments. He also directed some productions.
For a time, Rispin seemed to have found a home. He even tried his craft in front of the audience.
At the McKenzie Opera House in 1896, the critics lauded his performance as an elocutionist.
At the Grand Opera House in the same year the New York News wrote, "Everybody is talking of Mr. Henry Rispin's impersonation of 'Dick Chivy' at th Opera House. ... The manager of the Grand made his first dramatic effort ... That he scored a decided success is recognized by the critics."
That was until he met Annette Blake. And Rispin's fortunes changed.
Annette's bother Winfield Blake introducted the pair. Annette was beautiful and a college graduate.
Rispin was in his late 20s — she was younger by nine years and in the 14 years or so he'd been away from home, he'd been many places and experiecned much.
At the time, Annette's father was a true-to-life oil baron, and here is where Rispin likely got his start in the oil business and his money. No one knows for sure. However, at the turn the century, Rispin moved west and started working for Isaac Blake, selling petroleum products for one of Blake's many companies.
Blake was one of the original pioneers of the oil industry, and is credited with innovating the tanker car to carry petroleum products by rail. Blake's big break came in Utah in 1875 as he started Continental Oil, which was among the first to market petroleum products in the western United States. He also has a vast and impressive number of investments.
About 10 years later, Blake began a series of mergers with the Rockefeller family and others, mergers which finally produced Conoco. From this, he grew from very rich to extremely wealthy.
In November 1902, Rispin and Annette married in San Francisco at a small ceremony. It is difficult to determine, but just before or after that their son, Alan, is born.
In 1908, there is a reference to Rispin as managing an oil field in Santa Maria. He is also linked to an oil field in Lance Creek, Ohio. While Rispin first failed to produce oil from the Ohio field in 1914, he returned to that investment and was successful in 1916.
Sometime after that Rispin moved to Denver.
His letter in 1923 to an oil investor in Wyoming trying to swap the Capitola resort he owns for a "good oil property" suggests that the idea of moving to California to work as a real estate developer occurred in 1918, and by early 1919 he was negotiating to buy Camp Capitola — rundown water works, lots, dirt roads and all.
[Editor's Note: Capitola Historical Museum Director Carolyn Swift contributed to this article. The museum has an extensive collection of Rispin memorabilia. Some of the information contained in the article is different than that published before as more is known about Rispin's life.
Back